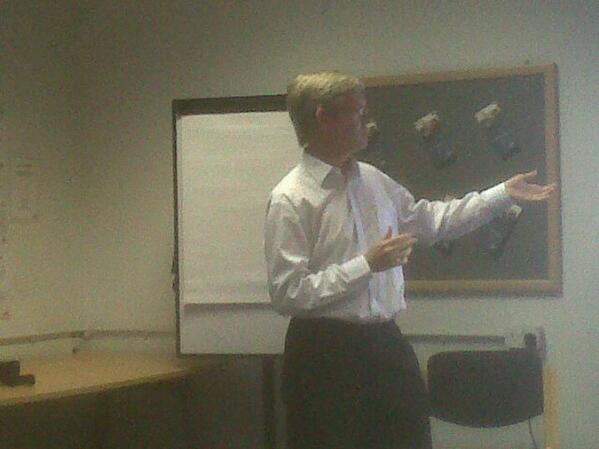 Roger Tipple at Sheffield Inventors' Group 7 Oct 2013
The speaker at Sheffield Inventors Group on 7 Oct 2013 was
Roger Tipple of Tipple Associates
. Roger is Sheffield Central Library's innovator in residence and the title of his talk was "Getting your Product to Market". One of the topics he discussed was funding and one of his suggestions for raising seed capital was crowd funding.
Crowd funding is appealing for funds from the public over the Internet. As it has become harder to raise investment or borrow from conventional investors and lenders and indeed harder for investors to invest and lenders to lend a new type of financial institution has evolved that puts entrepreneurs and investors and lenders in touch with each other. One of those institutions is
Bloom VC
which I discussed in
"Crowd Funding: No Waffle"
on 12 May 2011. Since I wrote that article Bloom claims in its
"About"
page to have raised a total of £269,000 for such businesses as "Bonnie Bling" (a bespoke jewellery company) and "The Ecosse Candle Company" (which makes candles).
Nesta
(the National Endowment for Science Technology and the Arts) has published
"An Introduction to Crowdfunding"
and
"Working the Crowd, a short guide to crowdfunding and how it can work for you"
. It has also set up a website called CrowdingIn at http://www.crowdingin.com which has a searchable database of crowdfunding institutions or platforms in the UK.
There are a number of obvious legal difficulties with crowdfunding such as
s.755
of the Companies Act 2006 which prohibits private companies offering securities to the public and
s.19
of the Financial Services and Markets Act 2000 which requires most financial services to be regulated by the
Financial Conduct Authority ("FCA")
. In its note on
Crowdfunding
of 4 June 2013 the FCA expressed the view that:
"most crowdfunding should be targeted at sophisticated investors who know how to value a startup business, understand the risks involved and that investors could lose all of their money."
It warned that
"investors in a crowdfund have little or no protection if the business or project fails, and that they will probably lose all their investment if it does."
The FCA also expressed concern that
"some firms involved in crowdfunding may be handling client money without our permission or authorisation, and therefore may not have adequate protection in place for investors."
However, some crowdfunding platforms have sought and been granted such authorization from the FCA, The Business Secretary appears to be encouraging crowdfunding (see Michael McDowell
"CBI and Vince Cable encourage businesses to look to crowdfunding"
22 May 2013 The MoneyLab Blog). Finally there is now a
UK Crowd Funding Association.
As always, send me a message through my
contact form
or call me on 020 7404 5252 during normal office hours if you want to discuss this article. You can also
tweet
me, write on my
wall
or send me a message through
G+
,
Linkedin
or
Xing
.